Dry Eye Clinic
Do your Eyes ever feel DRY, GRITTY or SCRATCHY? Are your Eyes   BURNING or WATERY? Do you have  TIRED EYES? ……You may suffer from Dry Eye Disease!!!
NCO is proud to announce the opening of our Dry Eye Clinic.
The Dry Eye Clinic will diagnose, treat, manage and prevent Dry Eye Disease (DED).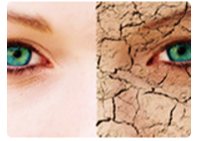 DED affects over 30 million Americans and that number is rising due the increasing use of digital devices at a younger age. DED is a multi-factorial disease, i.e. there are many causes, medications, environment, age, digital device usage to name a few! The tear film of the eye helps protect and nourish the cornea and eyelids.  In DED, the tear film of the eye becomes compromised which leads to inflammation (redness) that causes tears to evaporate(dryness, gritty feeling) that causes more inflammation and the cycle keeps repeating. Most dry eye is caused by Meibomian gland dysfunction (MGD): literature states that 86% of DED patients have MGD. The Meibomian glands help stabilize the tear film by providing oil to the tears that prevent the tears from evaporating. When the glands become clogged due to bacteria, contaminants and even from disuse, the oil becomes thick and paste-like. Now the glands are not producing the oil, the tear film evaporates too quickly and the cycle starts. We need to treat these vital Meibomian glands!
NCO has acquired new state-of-the-art diagnostic and treatment equipment that will help patients with their dry eye problems. We have ways of evaluating the meibomian glands easily and quickly.  Our new treatment has been scientifically proven to help most patients with MGD. We can even treat patients BEFORE they become symptomatic!
Please schedule an appointment if you like to keep your eyes healthy and treat dry eye at its source!
Here are some informational videos:
Understanding Dry Eye Disease
Dry Eye Symptoms and Causes
Dry Eye and MGD